PORTAL AND VEIL paperback out now!
Keepers 3 now available in paperback!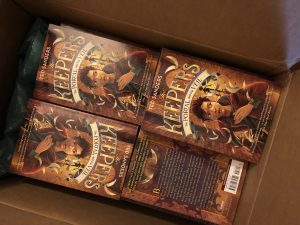 The Italian edition of The Box and the Dragonfly!
A Fundamental Characteristic We All Share with Scientists
I wrote a blog post for HarperCollins Children's about how we're all scientists, really–check it out. If you're a student who has seen my school presentation, you already know what I'm talking about!
THE PORTAL AND THE VEIL is out now!
The Keepers Book 3, The Portal and the Veil, is out in hardcover this week! Look for it on Amazon, Barnes & Noble, or your local indie bookseller. Thanks to the amazing folks at HarperCollins Children's for bringing Horace & Chloe's new adventures into the world, and to all you Keepers fans for reading!
The Portal and the Veil Cover Reveal!
On the radio
Thanks to Kyle at Iowa's KFJB for having me on The Morning Show last month to talk about The Harp and the Ravenvine. You can listen to the interview here:
Follow me on tour!
Book Tour Starts Today – Publication Day for Book 2
THE KEEPERS 2 gets its first review!
Booklist ran a very nice advance review of The Harp and the Ravenvine this month in their online edition–full reviews available to subscribers only, but here's a snippet:
"The second novel in the Keepers series offers a well-plotted adventure story with smoothly integrated fantasy elements. From the riveting action scenes to the hints of discord in the Keepers' backstory, this lengthy sequel rewards readers with well-drawn characters and a nuanced view of their modern yet magical world."
Kindle Deal of the Day!
Today only, you can get The Box and the Dragonfly for Kindle for only $1.99!
---